Essential Tips to Keep Your Pet Safe while Driving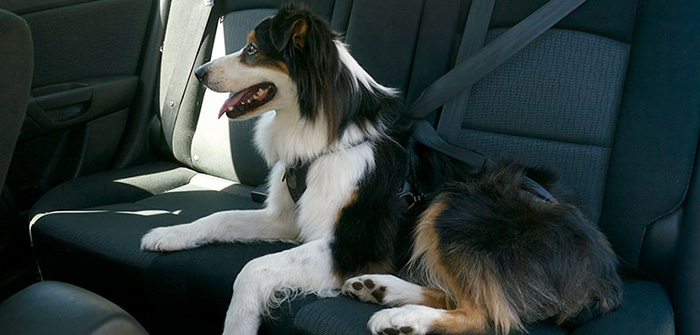 Do you know that more than 5000 dogs are killed or injured in accidents every year in Australia because they are inappropriately harnessed in the car or are not at all harnessed? If you have not harnessed your pet inside the car it can be a very risky situation. Pets are considered to be a part of the family and so usually Australians take their pets on long and short trips along with them. But as stated earlier, unrestrained pets are a great concern on Australian roads. It can distract the driver and can even lead to serious accidents resulting in the death of the pet or people inside and outside the car.
According to the Prevention of Cruelty to Animals Act, if an  unrestrained pet is injured in a car accident, then pet-parents need to pay hefty fines up to $ 5000 or can be jailed up to 6 months. So, to ensure that your pet is safe while travelling by car, you need to follow these steps:
At all times ensure your pet is  harnessed and the harness is secured in  a seat belt or anchor point. This will not only aid in saving the life of your dog but also prevent road accidents. This is crucial because if pets are left unrestrained they can cause distraction while driving. Ensure that the harness and seatbelt are fitted correctly so that you do not have to worry about your pet once you are driving.
If your pet wants to sit in the front seat, then ensure that the airbag (where fitted) in the car is working properly.  Some car models have an on/ off switch connected to it. They may also have an automatic button which turns off when there is no or minimal weight on the seat. In most cases, it is much safer for you and the pet if the pet is restrained in the back seat.
Ensure the pet harness is attached correctly in the car seat belt buckle so the dog is safe and secure.
If you are carrying a single, small pet in the back seat it is advisable to utilize either a folded seat back to raise the level or place an elevated car seat in the center. If you keep the pet at the center of the back seat, you can see him through the rear mirror and can ensure he is safe.
If your pet is medium to large size, then the back seat would be an ideal place for him. Use a seat belt harness and keep the pet in a tight position so that he does not interfere with your concentration. Remember your wellbeing is as important as your pet's.
Always keep the windows closed in the car so that no foreign object enters the eyes of your pet. This will make sure that your pet is always safe from any injury.
If you are carrying heavy objects keep them on the floor area or  in the boot so that they cannot cause any harm to the pet.
According to Travel Industry Association it has been observed that more than 67% of all pets who travel with pet-parents do so by car or by truck. With so many pets on the road it becomes imperative for the pet-parents to ensure that their pets have a safe, pleasing and comfortable trip.
Read More: https://www.vetsupply.com.au/articles.aspx