10 Steps to Treat Wounds of Your Dog at Home
Minor injuries, wounds or cuts in dogs need to be taken care of at home. But the action needs to be taken as soon as possible there are chances of infection to set in. If the skin around the wound is inflamed or has pus around it, then a more aggressive treatment needs to be done than the treatment at home. If you are unsure about the severity of the injury, then rush to your veterinarian as soon as possible.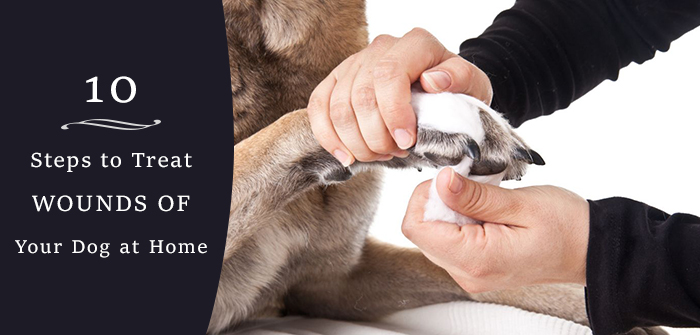 If you are sure that the pet will not react aggressively then only start the treatment at home. You will need the following dog supplies:
Antimicrobial ointment
Antiseptic solution
Clean towels including a paper or a cloth
Electric clippers, scissors or razors
Warm water
Water based lubricant example; KY Jelly and not Vaseline
Let us now look at the steps to treat wounds of your doggy at home:
If you have a small dog, place him on a table in front of you. But if you have a large dog then get down to the ground. Have a second person on the corner to restrain the doggy.
Cover the wound and surrounding area with a water-based lubricant. This will ease off the removal of shaved hair and decreases contamination.
Employ electric clippers to shave the hair around the wound. You can even use scissors or disposable razor but that needs to be used with extreme case such that you do not end up cutting the skin.
Wipe off the water-based lubricant and hair away with a clean, dry cloth or paper towel.
Wash the area with warm water in such a way that all the visible debris are gone.
Smear a non-stinging antiseptic solution to the area.
Then apply an antimicrobial ointment to the wound. If the pet is dealing with traumatic injuries, then a broad spectrum topical antibiotic needs to be used.
Do not allow the doggy to groom the ointment from the skin for a minimum of 10 minutes after administration. You can take the furry pal for a walk, but do not apply bandages to the wound.
Clean the debris two or three times a day and then apply antiseptic and ointment till the skin is healed.
If the wound does not heal within seven days, then consult with your veterinarian.